"Monster Strike The Movie" hits Japanese theaters December 10, 2016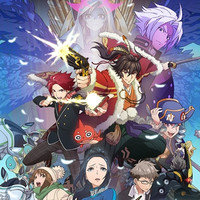 The official website for the web anime adaptation of mixi's mega hit action RPG Monster Strike today announced that the seven-minute anime series, posted every Saturday, was viewed over 100 million times worldwide from its premiere on October 10, 2015 to August 27, 2016. Currently 37 episodes are available on its official YouTube channel worldwide with multilingual support: English, Traditional Chinese, Simplified Chinese, Korean, French, German, Spanish, and Portuguese.
According to the press release from mixi, average viewing number per episode is 2.61 million, and over 30 million users have registered the anime's YouTube channel. And its 50-minute special episode "Mermaid Rhapsody" streamed on July 31 was viewed one million times by the next day.
Main visual
---
mixi announced in July that its XFLAG Studio will release a feature film edition of the web anime, titled
Monster Strike The Movie, in Japan on December 10, 2016. Shinpei Ezaki, the director of the 12-episode
Gunslinger Stratos: The Animation (2015), is attached to direct on the screenplay by Taku Kishimoto (Silver
Spoon, Haikyu!!).
Teaser
Teaser visual
Source: mixi press release
©mixi, Inc.