Lemons and piggies and kitties, oh my!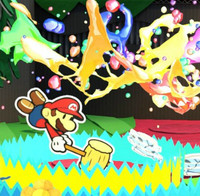 Paper Mario: Color Splash is the next entry in the series and it's due out for Wii U on October 7 of this year. It's gaining interest as one of the most colorful and unique entries in the game series for some time.
A few gameplay videos showing off some of the Cards you'll see in-game have been released, and you can check them all out below. The lemons look fantastic, by the way. Mario uses the Paint Hammer to paint elements to make progress in-game, and that's part of what you'll see here.
If you're excited to get your paint on with Mario and friends, there's not much longer left to wait. Better make sure you've finished up Paper Mario: Sticker Star by then!
[via GoNintendo]
-------
Fueled by horror, rainbow-sugar-pixel-rushes, and video games, Brittany is a freelancer who thrives on surrealism and ultraviolence. Follow her on Twitter @MolotovCupcake and check out her portfolio for more.