Who said Raiden wasn't cool?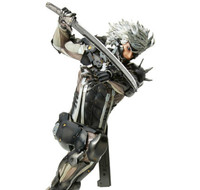 Raiden was an extremely interesting character in the whole of the Metal Gear mythos, but he doesn't have enough fans. Maybe this upcoming ensHdge technical statue No.33 METAL GEAR RISING REVENGEANCE - Raiden Complete Figure will change some minds, because it's so absolutely awesome.
The figure is planned for release in January 2017, but you can preorder it right now 15290 yen via AmiAmi. It's an impressively detailed figure with the main figure and base, and it's made out of PVC.
If you're a Raiden fan and want to show your solidarity, this is an awesome figure to do it with. Better get your preorder in now if you're interested in displaying him in your home in the near future.
[via AmiAmi]
-------
Fueled by horror, rainbow-sugar-pixel-rushes, and video games, Brittany is a freelancer who thrives on surrealism and ultraviolence. Follow her on Twitter @MolotovCupcake and check out her portfolio for more.