"Light Yagami is still alive."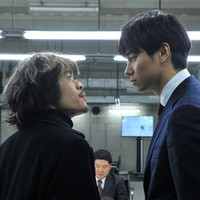 As reported, 38-year-old Japanese singer Namie Amuro is confirmed to provide the theme and insert songs for the upcoming live-action film Death Note Light up the NEW world, a sequel to the two live-action films in 2006. The film's latest trailer posted today introduces the theme song "Dear Diary." The CD single containing the theme song and insert song "Fighter" will be released as a double A-side single this fall.
The film, set 10 years after the first two, follows Tsukuru Mishima (Masahiro Higashide/investigator at the Death Note Countermeasures Headquarters Special Unit), Ryuzaki (Sousuke Ikematsu/L's righteous successor), Yuuki Shien (Masaki Suda/cyber-terrorist), and Sakura Aoi (AKB48 member Rina Kawaei/mass murderer with no ideological background), and their struggle for the six new Death Notes fallen to the human world. Erika Toda reprises her role as Misa Amane, alongside Shidou Nakamura providing his voice as Ryuk again.
The repeated dialog in the new trailer is "Light Yagami/Kira is still alive." Warner Brothers Japan will
release the film in Japan on October 29.
「もっとおもしろいもん見せてもらおうじゃねぇか――」
散りばめられた言葉の真意は一体!?デスノートを巡って、3つの揺るがぬ正義が動き出す。一瞬たりとも見逃せない映像満載の最新予告が完成‼ #デスノートLNW pic.twitter.com/ykMYjjuR7d

— 『デスノート LNW』公式 (@Deathnote_2016) September 4, 2016
主題歌・劇中歌アーティストが安室奈美恵さんに決定!主題歌「Dear Diary」では壮大なバラード、劇中歌「Fighter」では弥海砂目線のダンスナンバーを歌い上げます。リュークと安室さんコラボビジュアルも解禁#デスノートLNW pic.twitter.com/Nlb1MverGN

— 『デスノート LNW』公式 (@Deathnote_2016) August 24, 2016
---
2nd teaser
Main poster visual
Source: "Death Note Light up the NEW world" official website, Twitter
© Tsugumi Ohba, takeshi Obata/Shueisha ©2016 "DEATH NOTE" FILM PARTNERS