Anime Weekend Atlanta 9/29 - 10/2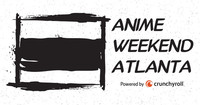 Similar to what Crunchyroll did with Anime Boston earlier this year we are partnering with Anime Weekend Atlanta to bring an extra special experience this year for Premium Members and convention attendees. This will include events and panels, merchandise, premiers, and Premium Member perks. Leading up to convention we will have multiple announcements so keep checking back for updates and more information.
Anime Weekend Atlanta is 9/29 - 10/2 and limited tickets are still available at the door so be sure to get there early to secure yours!