TV animation based on 4th main entry in the "Science Adventure" visual novel series debuts in January of 2017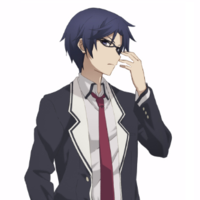 The character profiles for the main cast of Chaos;Child, an upcoming TV anime adaptation based on the 4th main entry of 5pb's "Science Adventure" series of visual novels, are now available online.
The characters profiled include:
Takuru Miyashiro (voiced by Yoshitsugu Matsuoka), a 3rd year high school student at Hekihou High School and director of the newspaper club. Takuru lost his parents 6 years ago in an earthquake, and now he lives in a camper stationed in Miyashita Park. Takuru considers himself a self-confident information broker, but his personality is a little painful to others.
Serika Onoe (voiced by Sumire Uesaka), a 2nd year student who belongs to the newspaper club. Serika is childhood friends with Takuru, and she affectionately refers to him as "Taku".
Nono Kurusu (voiced by Sarah Emi Bridcutt), the student council president of Hekihou High School and deputy-director of the newspaper club. Nono also lost her parents in the same earthquake that killed Takuru's family, and they spent time together at the same orphanage. Nono demonstrates excellent leadership skills in both sports and academics, and she is beloved by both the male and female student body.
Hinae Arimura (voiced by Suzuko Mimori), a 2nd year high school student and director of the literary club. Hinae is a trendy girl who is highly attuned to modern fads.
Hana Kazuki (voiced by Sayaka Nakaya), the only 1st year student in the newspaper club. Hana is an extremely reticent person. She rarely speaks and even then only responds in single syllables. Hana is addicted to online games, and is highly skilled at gathering and organizing information for the newspaper club.
Uki Yamazoe (voiced by Inori Minase), a 14 year old girl with a gentle disposition and a youthful appearance. Uki is very bad with computers, cell phones, and other electronic gadgets.
Chaos;Child is set in Shibuya in 2015, 6 years after a catastrophic earthquake devasted the area. At Hikehou High School, a private academy situated in the rebuilt city, a young man named Takuru Miyashiro has founded a high school newspaper club. Together he and his friends investigate a string of murders called "The Rebirth of the New Generation of Madness".
Chaos;Child is directed by Masato Jinbo and features animation by Silver Link. The series hits Japanese airwaves in January of 2017.
Sources:
Official Chaos;Child TV anime home page
Paul Chapman is the host of The Greatest Movie EVER! Podcast and GME! Anime Fun Time.