Yuichi Fukuda-directed film will open in Japan sometime in 2017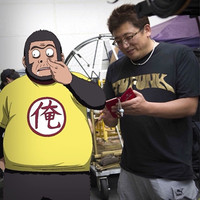 Four days after Shun Oguri (as Gintoki Sakata) wrapped up shooting all of his scenes, the official Twitter for the upcoming live-action film adaptation of Hideaki Sorachi's action comedy manga Gintama officially announced the finish of filming yesterday, and posted a photo of the manga author who visited a set on September 1.
The filming has lasted two months since July. According to the director Yuichi Fukuda, who has mainly worked on very low-budget films, the budget is plenty thanks to the manga's popularity, and he is going to use up all the money to make a laughable and moving Gintama film. The highly-anticipated live-action film adaptation will be released in Japan sometime in 2017.
"Be not Defeated by the Rain, Nor be bested by the heat of summer, the filming is just finished!"
#映画銀魂 雨ニモマケズ、夏の暑さニモマケズ先ほど全て撮影終了!
クランクアップしました pic.twitter.com/cQ82U7rYJ8

— 映画『銀魂』公式 (@gintama_film) 2016年9月8日
Manga author Sorachi (left) anf director Fukuda (right)
撮影終盤、空知先生も現場をご訪問!
監督と談笑しているところを押えました #映画銀魂 pic.twitter.com/NIA44h632A

— 映画『銀魂』公式 (@gintama_film) 2016年9月8日
Sorachi left an illustrated colored paper for Oguri
銀魂、とうとう銀ちゃん、オールアップ!小栗くん!2カ月、本当に楽しかったよ!万事屋の2人をはじめ、キャスト全員楽しく臨めたのは、すべて小栗くんの作る雰囲気によるものです!そして空知先生からのサプライズ色紙が飛び出して!これ、すげえ! pic.twitter.com/F8TJkmMYH7

— 福田 雄一 (@fukuda_u1) September 5, 2016
ource: "Gintama" live-action film official Twitter, Yuichi Fukuda Twitter