Looks like "Rewrite+" will be making a PS4 appearance,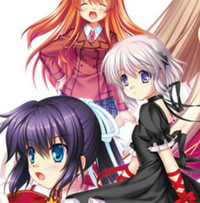 The Tokyo Game Show is gearing up to begin, but it looks like one of the announcements that was expected to happen during the show has already been blown in the case of Rewrite+, for PlayStation 4.
The listing for the game can be found within the Prototype listing in the Exhibitors section of the TGS app, where it's listed for PlayStation 4. It's slated for a Spring 2017 release in Japan, and here's what you can expect from it, via VNDB:
"Rewrite is set in the fictional city Kazamatsuri where treeplanting and afforestation have caused the city to become overgrown with trees and flowers in much the same way that other cities are filled by buildings. However, while most of the city appears to be rural, there are many traditional city elements as well. While set in a modern setting, the city also gives off a strange sense of nostalgia.
Tennouji Kotarou lives here. He's a high school student who has the ability to rewrite his own body; he can become stronger and faster at any time he chooses. He investigates supernatural mysteries with five girls from his school.
The basis of the story is set in a high school setting. The first half of Rewrite primarily consists of the characters interacting in many everyday, enjoyable scenes. The latter half, however, is more serious, emotional, and carries a sense of mystery to the plot."
It sounds like a pretty engaging ride, especially with the idea of "rewriting" choices. Will you be looking forward to a copy?
[via Gematsu]
-------
Fueled by horror, rainbow-sugar-pixel-rushes, and video games, Brittany is a freelancer who thrives on surrealism and ultraviolence. Follow her on Twitter @MolotovCupcake and check out her portfolio for more.