Gotta catch 'em all...in Sweden!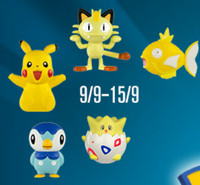 If you're jonesing for some adorable Pokémon toys and live in or are interested in heading to Sweden in the near future, you migiht want to hit up a McDonald's soon. McDonald's is bringing a series of 20 Pokémon toys to Happy Meals.
The first batch is already running and includes Pikachu, Meowth, Piplup, Magikarp, and Togepi. There are three other sets gong live throughout the rest of the month and into October, including fan=favorites like Eevee and Vulpix, but it seems each set is still going to include Magikarp, bizarrely enough.
Check out the entire set below and see if you can make it your mission to, as you would in the real world, catch 'em all!
[via Siliconera]
-------
Fueled by horror, rainbow-sugar-pixel-rushes, and video games, Brittany is a freelancer who thrives on surrealism and ultraviolence. Follow her on Twitter @MolotovCupcake and check out her portfolio for more.