"Shin Godzilla" is expected to finish its run with around 7.5 billion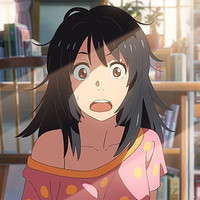 Nobody has expected this impressive success for an original anime feature film not based on any popular manga or TV anime series. It is confirmed today that Makoto Shinkai's Kimi no Na wa./your name has collected a huge 6.2 billion yen (about 60 million US dollars) from its domestic run only in 17 days since its release on August 26.
The film has dominated the weekend box office in Japan for three consecutive weeks, even beating the new big budget Hollywood film of the last weekend, Suicide Squad. As reported, another surprise hit of this summer, Shinji Higuchi-directed Shin Godzilla needed to spend 38 days to cross the six billion yen mark.
While Shin Godzilla is expected to finish its run with around 7.5 billion yen, it seems certain that Kimi no Na wa. will reach the historical 10 billion yen mark soon and become the top-grossing film of the year 2016.
The film has already earned more than Mamoru Hosoda's most successful film in his career, Bakemono
no Ko/The Boy and The Beast that made 5.85 billion yen in 2015. It's no wondering some people have
started considering Shinkai as the next Hayao Miyazaki.
Weekend box office in Japan (September 10-11)
1 (1). "Kimi no na Wa./your name"
2 (new). "Suicide Squad"
3 (new). "Shigatsu wa Kimi no Uso/Your Lie in April"
4 (new). "Chokousoku! Sankin Koutai Returns"
5 (2). "Shin Godzilla"
6 (3) "The Secret Life of Pets"
7 (new). "Gods of Egypt"
8 (4). "Gosaigyo no Onna"
9 (5). "Aozora Yell"
10 (6). "Now You See Me 2"
"Kimi no na wa" Japanese trailer
Poster visual
Source: Mantan Style