Anime ran from April to July and was simulcast by Funimation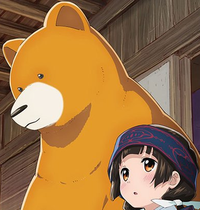 Fans of the Kumamiko anime adaptation that attended the past weekend's fan appreciation event were suitably entertained by the antics of the cast members in attendance, which included the main cast members.
However, any expectations of any additional anime projects being announced, let alone a second season of the anime adaptation were dashed as attendees confirmed that no new anime projects were confirmed during or after the event, where expectations were high that a second season of the TV anime would be announced. Kumamiko was simulcast this past Spring by Funimation under the title Kuma Miko: Girl Meets Bear.
---
Humberto Saabedra is the Owner of AnimeNews.biz and a part-time recording engineer. He can also be found musing on things at @AnimeNewsdotbiz