Shinsuke Sato (I Am a Hero, Bleach)-directed film will open on October 29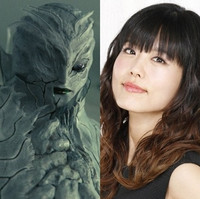 The official website for the upcoming live-action film Death Note Light up the NEW world, a sequel to the two live-action films in 2006, has confirmed that 31-year-old voice actress Miyuki Sawashiro, best known as Towa Akagi/Cure Scarlet in Go!Princess PreCure and Mineko Fuji in Lupin The Third, is cast as Arma, a new female-type shinigami/death in the film.
The design of Arma is based on the death Shidoh appeared in the original Death Note manga and newly supervised by the manga's original illustrator Takeshi Obata. She has no death friends and is more sympathetic to humans than others. Her favorite fruit is muscat (while Ryuk's is apple).
Meanwhile, 43-year-old Japanese kabuki and film actor Shidou Nakamura is already confirmed to reprise his role as Ryuk. He played the character in the first two live-action films and the 2006 TV anime.
The film is set 10 years after the first two. The story follows Tsukuru Mishima (Masahiro Higashide/investigator
at the Death Note Countermeasures Headquarters Special Unit), Ryuzaki (Sousuke Ikematsu/L's righteous
successor), Yuuki Shien (Masaki Suda/cyber-terrorist), and Sakura Aoi (AKB48 member Rina Kawaei/mass
murderer with no ideological background), and their struggle for the six new Death Notes fallen to the human.
Warner Brothers Japan will release the film in Japan on October 29.
死神アーマに息吹を吹き込むのは沢城みゆきさんに決定!
アーマは死神の友達を持たず、むしろ人間にシンパシーを感じているようなキャラクターで、マスカットが好物。仕草や話し方がエレガントで、人間でいうところの"女性"。#デスノートLNW pic.twitter.com/qfCzulq1mS

— 『デスノート LNW』公式 (@Deathnote_2016) September 11, 2016
週刊少年ジャンプ作品お馴染みの人気声優である沢城さんは「…死神ってこういうもの、という何か共通項があるのかなと思っていたら、私達人間同様、本当に三"神"三様だったのが印象的です」とコメントしています❗️#デスノートLNW pic.twitter.com/pTFcfXorHL

— 『デスノート LNW』公式 (@Deathnote_2016) September 11, 2016
Full trailer
Main poster visual
Source: "Death Note Light up the NEW world" official website, Twitter
© Tsugumi Ohba, takeshi Obata/Shueisha ©2016 "DEATH NOTE" FILM PARTNERS