"Capdon" debuts 9/16 at Tokyo Arcade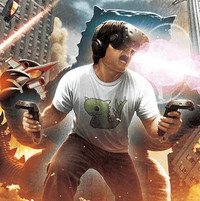 Thanks to the runaway success of Shin Godzilla, giant monsters equal big business in Japan again. And now Capcom is getting into the act with a new virtual reality simulator where players get to experience the thrills of being a colossal-sized terror on the loose named... DAI KAIJU CAPDOM!
The CAPDOM simulator debuts on Fri/16 at the Capcom Plaza arcade in Kichijoji, Tokyo. Here's how Tokusatsu Network explains the action:
In the game, you will take on the role of the kaiju, Capdon, demolish buildings, destroy the defending forces, and save all the little kaiju. The little kaiju that players must save will be decided by the stage.
Players will be equipped with controls for your left and right hand, and shoes that would map your actions to Capdon.
With activities like stomping, punching, breathing fireballs, and crushing puny vehicles this looks like a dream come true. Here's the full retro-style poster art, or as I like to call it: "me irl".
Patrick Macias is editor in chief of Crunchyroll News & Otaku USA magazine.
He is also the writer of HYPERSONIC music club, Paranoia Girls, & PARK Harajuku: Crisis Team!