Eight bottles with "One Piece" characters are available from today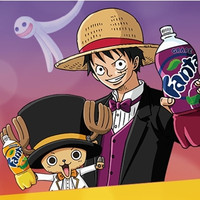 Following the success of the first collaboration last year, Coca-Cola Japan today starts the second promotional campaign for its popular fruits carbonated beverage, Fanta, collaborated with the internationally famous anime franchise One Piece from today, September 12. Eight bottles with the time-limited special packages featuring the One Piece characters are now available at Japanese stores.
Official introduction:
"Fanta," the most popular fruits carbonated beverage especially among teenagers, and "ONE PIECE," the super popular TV animation have made an exciting collaboration TVCF. A squeeze of juice has made "Fanta Grape" and "Fanta Orange" much tastier, and in the TVCF, ONE PIECE characters "Luffy" and "Chopper" express the tasty flavor, which makes other characters full of joy. Also, by reading the QR cord on the "ONE PIECE Collaboration" bottle, you can enjoy special ONE PIECE movies!
CM
Stroyboard for the CM
Source: press release
© Eiichiro Oda/Shueisha, fuji TV, Toei Animation