Yu Kobayashi, Bin Shimada also join the cast as Miss X, Yellow Devil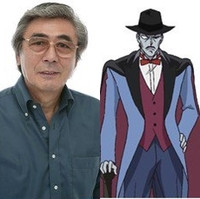 The official website for Toei Animation's upcoming TV anime Tiger Mask W confirmed today that 79-year-old Hidekatsu Shibata reprises his role as Mister X, the manager of the evil organization Tiger's Cave. The veteran voice actor, also well known as Baron Ashura in Mazinger Z and King Bradley in Fullmetal Alchemist, played the villain character in the first TV anime adaptation inspired by Ikki Kajiwara and Naoki Tsuji's Tiger Mask manga series in 1969-1971, and it was his first regular anime role.
34-year-old Yu Kobayashi (Sasha Blouse in Attack on Titan) is also confirmed to voice Mister X's assistant Miss X, and 61-year-old Bin Satoshi (Paptimus Scirocco in Mobile Suit Zeta Gundam) is cast as Yellow Devil who becomes an enemy wrestler against Naoto/New Tiger Mask and Takuma/Tiger The Dark.
Tiger Mask W is set to premiere on TV Asahi at 26:45 on October 1 (JST).
【新キャラ発表!】
「#タイガーマスクW」ミスターX役に、初代「タイガーマスク」でも同役を担当した柴田秀勝さん、そしてミスX役に小林ゆうさん、イエローデビル役に島田敏さんが決定!https://t.co/YNJNgaEwMT pic.twitter.com/ByqRtx5Jog

— 「タイガーマスクW」10/1放送開始! (@TigerMaskW) September 13, 2016
Main Voice Cast:
Naoto Azuma/New Tiger Mask: Taku Yashiro (Kakeru Juouin in KING OF PRISM by PrettyRhythm)
Takuma Fujii/Tiger The Dark: Yuichiro Umehara (En Yufuin in Cute High Earth Defense Club Love!)
Haruna Takaoka: Suzuko Mimori (Umi Sonoda in Love Live!)
Kazuchika Okada: Masakazu Morita (Ichigo Kurosaki in Bleach)
Hiroshi Tanahashi: Kenichi Suzumura (Masato Hijirikawa in Uta no Prince-sama)
Main Visual
【放送日時決定&新ビジュアル公開】
「#タイガーマスクW」10/1(土)深夜2:45テレビ朝日で放送開始!(一部地域を除く)新ビジュアルには出演決定した真壁刀義選手、永田裕志選手の姿も!https://t.co/GxtruAFyl1 pic.twitter.com/ZXuyVrM1HK

— 「タイガーマスクW」10/1放送開始! (@TigerMaskW) September 8, 2016
Series director: Toshiaki Komura (Ultimate Muscle, Yes! PreCure 5)
Series Composition: Katsuhiko Chiba (FREEDOM, Baby steps)
Character Design: Hisahi Kagawa (Fresh PreCure!)
Action Animation Director: Junichi Hayama (A town where you live, Kyo, Koi wo Hajimemasu)
Art Design: Yoshihito Watanabe (High School Fleet, One Piece Heart of Gold)
Music: Yasuharu Takanashi/Team-MAX (Naruto, PreCure series)、-yaiba-
PV
Source: "Tiger Mask W" official website
© Ikki Kajiwara, Naoki Tsuji/Kodansha
© TV Asahi, Toei Animation