Audio drama to be offered with Japanese release of light novel volume 4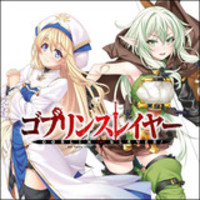 Last month, GA Bunko, an imprint of SB Creative, announced that the 4th volume of Goblin Slayer, a dark fantasy light novel series written by Kumo Kagyu and illustrated by Noburu Kannatsuki, will include a special edition release that comes with an audio drama CD as a bonus. Now that it's available for order ahead of a January 15, 2017 Japanese release, a new English promo has been published, along with a cast listing for the audio version of the infamous series.
Drama CD released in January 2017. Only available in Japan
http://ga.sbcr.jp/sp/goblin_slayer @GoblinSlayer_GA

Original script written by Kagyu Kumo

CAST

Goblin Slayer : Yuuichirou Umehara

Priestess : Yui Ogura

High Elf Archer : Nao Toyama

Cow Girl : Yuka Iguchi

Guild Girl : Maaya Uchida

Dwarf Shaman : Yuichi Nakamura

Lizard Priest : Tomokazu Sugita

Sorceress : Yoko Hikasa

Lancer : Yoshitsugu Matsuoka

Preview Narration
Yuuichirou Umehara
Yui Ogura

Special Thanks
Chitose Morinaga

Volume 1 of the original novel available December 13, 2016
http://www.hachettebookgroup.com/titl...

Volume 1 of the manga adaptation available Spring 2017

New chapters of the manga adaptation release digitally
every month and are available worldwide the same day as Japan!

https://www.amazon.com/Goblin-Slayer-...
Volume 3 is out in Japan today, along with the first volume of the manga
「ゴブリンスレイヤー3」発売https://t.co/q54n4XltXD#ゴブスレ pic.twitter.com/rTihxqPonU

— GA文庫「ゴブリンスレイヤー」公式 (@GoblinSlayer_GA) September 14, 2016
「ゴブリンスレイヤー」①巻、本日発売!! 「俺は世界を救わない。ゴブリンを殺すだけだ」WEB発の大人気ダークファンタジーを衝撃コミカライズ!! pic.twitter.com/GXIfipkELs

— 月刊ビッグガンガン (@big_gangan) September 13, 2016
――ペンも紙もなしに、どうして冒険ができようものか。
■受付嬢/Guild Girl
冒険者ギルドで働く女性。
ゴブリン退治を率先してこなすゴブリンスレイヤーにいつも助けられている。#ゴブスレ pic.twitter.com/eW65moaRV3

— GA文庫「ゴブリンスレイヤー」公式 (@GoblinSlayer_GA) September 12, 2016
「ゴブリンスレイヤー3」試読版公開。
https://t.co/oU3pt2H9ok #ゴブスレ pic.twitter.com/jG2XI5kpAc

— GA文庫「ゴブリンスレイヤー」公式 (@GoblinSlayer_GA) September 8, 2016
ゴブリンスレイヤー、ラノベ3巻とコミックス1巻が9月同時発売。「俺は世界を救わないゴブリンを殺すだけだ」 #akiba pic.twitter.com/y5eMBYSpWm

— [email protected] (@akibablog) September 7, 2016

------
Scott Green is editor and reporter for anime and manga at geek entertainment site Ain't It Cool News. Follow him on Twitter at @aicnanime.