Both series available for viewing now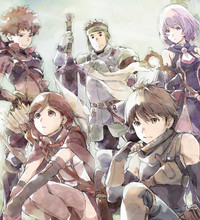 Previously announced last week as part of the game changing Crunchyroll-Funimation partnership, Grimgar of Fantasy and Ash and Season One of PSYCHO-PASS have now begun streaming on CR! Woo woo!
About Grimgar of Fantasy and Ash
From A-1 Pictures, the studio behind Fairy Tail and Sword Art Online: When Haruhiro awakens, he's in the dark surrounded by people who have no memory of where they came from or how they got there. As the darkness fades, a fantastic new world called "Grimgar" appears before them and their adventure begins—but first, they'll have to choose their guild, class, and special abilities.
Territories: US, Canada, UK, Ireland, South Africa, Iceland, Sweden, Norway, Denmark
About PSYCHO-PASS
In the future, thinking about a crime makes you guilty, and justice is dispensed from the barrel of a gun. Detectives work in teams made up of Enforcers and Inspectors. Enforcers take out the bad guys, and Inspectors make sure their partners don't cross the line. The equalizer in the war on thugs is the Dominator, a weapon that can tell when citizens are about to turn criminal.
Territories: US, Canada, UK, Ireland, South Africa
Patrick Macias is editor in chief of Crunchyroll News & Otaku USA magazine.
He is also the writer of HYPERSONIC music club, Paranoia Girls, & PARK Harajuku: Crisis Team!