Junji Nishimura (Bakuon!!)-directed series is set to premiere on October 1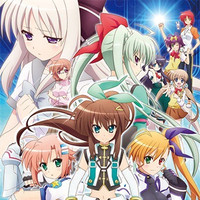 The official website for the new TV anime series Vivid Strike! today updated with a new key visual and posted a web-only 15-second CM featuring its ED theme song "Starry Wish" performed by 20-year-old Inori Minase who is also cast as one of the two protagonists, Fuuka Reventon. The anime's OP song "Future Strike" is sung by 21-year-old Yui Ogura who voices another protagonist, Rinne Berlinetta. The CD single of the OP song will be released on November 2, that of the ED song will follow one week later.
Vivid Strike! will premiere on Tokyo MX, MBS, Gunma TV, Tochigi TV, and BS11 on October 1.
New CM
New ky visual
更にっ!新ビジュアルも公開!!https://t.co/Fo74hi3Ivx#vivid_strike pic.twitter.com/dpQJVjZALT

— 『ViVid Strike!』アニメ公式 (@vivid_strike_) September 15, 2016
Story Introduction:
"The two girls who grow up at an orphanage, Fuuka and Rinne. In a relationship as childhood friends and sisters,
they have been dreaming of a bright future in spite of their poor life. But the two partings they have to face will
be changing their destinies."
PV
---
Masaki Tsuzuki, the creator of the Nanoha franchise, provides an original story and scenarios, and Takuya
Fujima, who has been working on the Magical Girl Lyrical Nanoha ViVid manga series, works on original
character designs. In addition, characters from the Vivid series, including its protagonist Vivio Takamachi,
are included in the list, and the voice cast from the Vivid TV anime aired in 2015 will reprise their roles.
Seven Arcs, that produced three Nanoha TV series and two films, works on anime production.
Main Staff:
Original Story/Scenarios: Masaki Tsuzuki (Magical Girl Lyrical Nanoha)
Original Character Design: Takuya Fujima (Magical Girl Lyrical Nanoha ViVid)
Director: Junji Nishimura (You're Under Arrest, Bakuon!!)
Sound production: Glovision
Anime Production: Seven Arcs (Magical Girl Lyrical Nanoha)
OP theme song "Future Strike": Yui Ogura
ED theme song "Starry Wish": Inori Minase
Main Voice Cast:
Fuuka Reventon: Inori Minase (Chino in Is the Order a Rabbit?)
Rinne Berlinetta: Yui Ogura (Hinata Hakamada in Ro-Kyu-Bu!)
Vivio Takamachi: Kaori Mizuhashi (Mami Tomoe in Puella Magi Madoka Magica)
Einhard Stratos: Mamiko Noto (Mavis Vermillion in Fairy Tail Zero)
Yumina Enclave: Sumire Uesaka (Athena in Luck & Logic)
Rio Wesley: Eri Kitamura (Miki Aono/Cure Berry in Fresh PreCure!)
Corona Timil: Misato Fukuen (Miyuki Hoshizora/Cure Happy in Smile PreCure!)
Nove Nakajima: Chiwa Saito (Homura Akemi in Puella Magi Madoka Magica)
Jill Stora: Ayane Sakura (Ochako Uraraka in My Hero Academia)
Source: "Vivid Strike!" official website, Twitter
(C) ViVid Strike PROJECT