Dubbing session revealed via NBC affiliate KXAS-TV news clip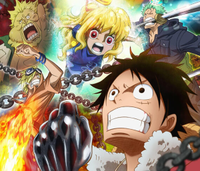 Dallas-Fort Worth NBC affiliate KXAS-TV Channel 5 has posted a new short feature on Funimation Entertainment that highlights the anime publisher and distributor's impact that the company has on the local economy in the Dallas Fort Worth area, being based in the Tarrant County suburb of Flower Mound, Texas.
During the report, the eagle-eyed fans of the One Piece Podcast noticed that the footage used in the report showcasing a dubbing session also depicted footage from the recently aired and simulcast One Piece Heart Of Gold TV special that ties into the latest One Piece film, Gold. The report with the key footage is found at the link below. Funimation has yet to officially announce plans for an English-dubbed release of the Heart of Gold TV special.
via NBC 5 DFW
---
Humberto Saabedra is the Owner of AnimeNews.biz and a part-time recording engineer. He can also be found musing on things at @AnimeNewsdotbiz