First part "Chapter Mishima: Newborn" will be streamed from tommorow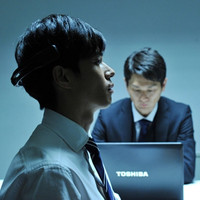 A three-part web drama series Death Note New Generation focusing on the past of the three new main characters from the upcoming feature film Death Note Light up the NEW world will begin streaming on Hulu every Friday from tomorrow. The first episode "Chapter Mishima: Newborn" features Tsukuru Mishima (Masahiro Higashide), telling how and why he was appointed as the top investigator at the Death Note Countermeasures Headquarters Special Unit. It is also confirmed that Near, L's young successor in the original story, will appear in the second episode "Chapter Ryuzaki: Last Wishes."
Streaming schedule:
September 16: "Chapter Mishima: Newborn"
September 23: "Chapter Ryuzaki: Last Wishes"
September 30: "Chapter Shion: Fanaticism"
The 80-second special PV below features the theme song for the web drama series, "Fighter" sung by Namie
Amuro, which is also used as an insert song in the feature film.
---
The film, set 10 years after the first two live-action films in 2006, will be released in Japan on October 29.
Full trailer
Main poster visual
Source: "Death Note Light up the NEW world" official website
© Tsugumi Ohba, takeshi Obata/Shueisha ©2016 "DEATH NOTE" FILM PARTNERS