Next 15th single "again" is set for a release on November 30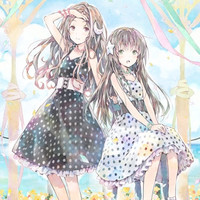 The official website for two-member anison vocal unit ClariS confirmed on September 18 that their first concert at Nippon Budokan is scheduled to be held on February 10, 2017. The news was also announced during the encore of the second day of their two-day concert at Pacifico Yokohama in Kanagawa, titled "ClariS 1st HALL CONCERT in Pacifico Yokohama National Convention Hall." The famous sport arena Nippon Budokan has been used by many internationally well-known artists, such as The Beatles, Bob Dylan, Cheap Trick, Deep Purple, Queen, and The Rolling Stones.
The site also announced that their next 15th single "again" is set for a release on November 30, 2016, and its title track will be featured as the theme song for the upcoming action RPG AKIBA'S BEAT to be released this winter.
The unit was originally formed by Clara and Alice in 2009 when the two were still junior high school students.
After posting several cover song videos onto Nico Nico Douga, they released their major debut single from
SME Records, "irony" (TV anime Ore no Imouto ga Konnani Kawaii wake ga Nai OP), in October 2010.
One of the original members, Alice left the unit in June 2014 to concentrate on studying, then a new
member Karen joined five months later.
もうすぐコンサート2日目始まります今日は月に祈りをの日ですよー!昨日に引き続き皆さんに会えるのが本当に楽しみです!!皆さん準備はできてますか〜?
いっぱい盛り上がっていきましょうカレン☆.。 pic.twitter.com/Q1XIeW5Mbn

— ClariS☆スタッフ (@ClariS_Staff) 2016年9月18日
Latest artist illustration
Source: ClariS official website
© SME Records Inc.