TV anime's 13th episode will be aired on October 5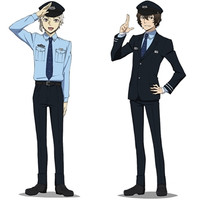 Following the successful first two rounds in May 2015 and May 2016, Kadokawa will hold the third round of the Bungo Stray Dogs stamp rally in Yokohama, where the story of the anime series has been told, from October 1 to 30. It is a tie-up event with Yokohama City's Transportation Bureau and Cultural Travel Bureau.
In this Bungo Stray Dogs stamp rally, participants requires to visit eight stations in Yokohama-city to fill up a special sheet of paper by stamping it with different character designs. Once they've filled up the sheet, they will be able to get a special tin badge with a newly-drawn illustration for the event at the Animate Yokohama store.
Rally points and characters:
Yokohama Marin Tower: Chuya Nakahara
Sankeien: Ryunosuke Akutagawa
Yokohama Doll House; Doppo Kunikida
Kanagawa Museum of Modern Literature: Atsushi Nakajima
City Subway Yokohama Station: Ranpo Edogawa
City Subway Sakuragi-cho Station: Kenji Miyazawa
Yokohama Red Brick Warehouse: Osamu Dazai
Yokohama Cosmo World: Kyouka Izumi
3rd stamp rally poster visual
Map
Atsushi Nakajima and Osamu Dazai in the uniform of Yokohama City Bus/Subway
1st event poster visual (May 1-30, 2015)
2nd event poster visual (May 2 - June 5, 2016)
Source: Kadokawa press release
© 2016 Kafka Asagiri, Sango Harukawa/KADOKAWA/"Bungo Stray Dogs" Production Committee