2nd editions of advance tickets will go on sale on October 1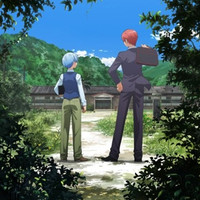 The official website for the Ansatsu Kyoushitsu/Assassination Classroom anime franchise today updated with a second key visual for the upcoming compilation film of its TV anime series, 365 Nichi no Jikan/The Time of 365 Days, featuring Nagisa Shiota and Karma Akabane standing in the front of the old schoolhouse of Class 3-E seven years after their graduation.
With a parody short Koro Sensei Quest/Koro Teacher Quest set at the Kunugigaoka Magical School in a fantasy world, the film will run at 27 theaters in Japan from November 19 for an unspecified limited time.
2nd key visual
【渚と業の7年後】
『劇場版「暗殺教室」365日の時間』のキービジュアル第2弾が公開されました!
卒業から7年後、再び旧校舎の前に立つ渚と業。成長とともに大きく身長差がついた2人ですが、暗殺教室を卒業し、どことなく自信に満ち溢れた立ち姿をしています。#暗殺教室 pic.twitter.com/qRzSUueIlQ

— アニメ『暗殺教室』公式@11.19公開! (@ansatsu_anime) 2016年9月26日
---
It is also confirmed that the second editions of the film's advance tickets will go on sale in three types
at the theaters from October 1.
Type 1: a ticket with a bromide card of the second key visual and a special album - 1,500 yen
【劇場前売券第2弾解禁!】
劇場前売券の第2弾が、全3種類にて10月1日(土)より順次発売!
本日解禁されたキービジュアル第2弾絵柄の前売券は、ブロマイドと特製殺せんせーアルバムの特典がセットになった豪華版です! #暗殺教室https://t.co/Pvzewsqv5f pic.twitter.com/ErGe3JrAUw

— アニメ『暗殺教室』公式@11.19公開! (@ansatsu_anime) 2016年9月26日
Type 2: pair tickets featuring Nagisa and Karma student version visual with its bromide card - 3,000 yen
Type 3: pair tickets featuring Nagisa and Karma seven years after version visual with its bromide card - 3,000 yen
【劇場前売券第2弾】
さらに、描き下ろし絵柄の渚&業スペシャルペアチケットが2種類登場!
超体育着を着た3年E組時代の渚&業と、7年後の成長した渚&業のペアチケットです。特典は、チケットと同絵柄のブロマイド♪ #暗殺教室https://t.co/Pvzewsqv5f pic.twitter.com/h4I1OzSPgq

— アニメ『暗殺教室』公式@11.19公開! (@ansatsu_anime) 2016年9月26日
Flyer visual
Source: "Assassination Classroom" anime official website, Twitter
© Yusei Matsui/Shueisha, Anime "Assassination Classroom" Production Committee