Starts tomorrow, 9/27, at 3am PT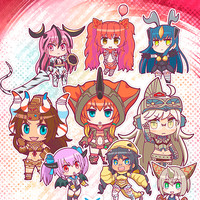 The fun of fall anime annoucements is just starting to kick into gear here at Crunchyroll, and the next title set to debut soon is KAIJU GIRLS, featuring characters inspired by Japan's ultra-awesome Ultraman series.
KAIJU GIRLS begins streaming tomorrow, 9/27 at 3am PT, with subsequent episodes attacking Mondays at 9PM PT, for members worldwide exept Asia.
About KAIJU GIRLS
Humanity's battle of many years with the kaiju, giant monsters, has finally come to an end. Now that Earth has entered an age of peace, girls with the souls of kaiju have begun to appear, giving them the ability to transform into kaiju. They are known as the Kaiju Girls, and this is the powerful, transient, beautiful, and at times easygoing story of the strange fate these girls bear.
Patrick Macias is editor in chief of Crunchyroll News & Otaku USA magazine.
He is also the writer of HYPERSONIC music club, Paranoia Girls, & PARK Harajuku: Crisis Team!