The pace is faster than Disney's "Frozen" in 2014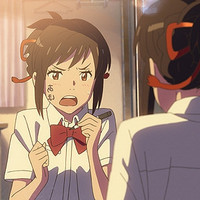 Makoto Shinkai's Kimi no Na wa./your name continues to dominate the Japanese weekend box office in its fifth week, easily getting ahead of its competitors, including acclaimed director Clint Eastwood's latest work Sully in second with 225 million yen. The youth sci-fi film made 860 million yen from 637,000 admissions in its fifth weekend, which was just a 20% drop from the previous weekend, as its domestic cume now stands at 11.1 billion yen (about 110 million US dollars).
The film's box-office pace is also amazing. As reported, it spent 28 days to reach the 10 billion yen mark, while the most successful foreign animated film in Japan, Disney's Frozen needed nine days more, 37 days in 2014.
Now its has become the 7th most successful Japanese film in history. See the all-time top 10 list below.
All-Time Japanese Film Box Office Top 10:
1. "Spirited Away" (2001/30.1 billion yen)
2. "Howl's Moving Castle" (2004/19.6 billion)
3. "Princess Mononoke" (1997/19.3 billion)
4. "Bayside Shakedown 2" (2003/17.35 billion)
5. "Ponyo" (2008/15.5 billion)
6. "The Wind Rises" (2013/12.02 billion)
7. "your name." (2016/11.1 billion)
8. "Antarctica" (1983/11 billion)
9. "Bayside Shakedown 2" (1998/10.1 billion)
10. "The Adventures of Chatran" (1986/9.8 billion)
"Kimi no na wa." Japanese trailer
Source: Eiga.com