Yukiko Ban (DRAMAtical Murder, Tsukiuta.) is newly appointed as the character designer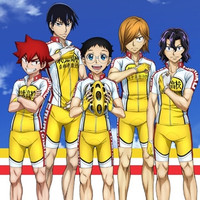 Toho Animation's official YouTube channel today posted a 30-second PV for Yowamushi Pedal: New Generation, the upcoming third season of the TV anime adaptations based on Wataru Watanabe's road bicycle racing-themed sport manga, introducing five member of the Sohoku High Bicycle Club.
The first season of the TMS Entertainment-produced TV anime was aired for 38 episodes from October 2013 to June 2014, and the second season Grande Road followed with 24 episodes from October 2014 to March 2015. Then a feature film telling the original story written by the manga author was released in August 2015. The third season New Generation is set to premiere in January 2017.
3rd season key visual
【速報】2017年1月スタート!TVアニメ第3期のタイトルは『弱虫ペダル NEW GENERATION(ニュージェネレーション)』に決定!キービジュアル第1弾も解禁!https://t.co/QPihyJSWYJ #yp_anime pic.twitter.com/duIZmOrSaG

— 弱虫ペダル_アニメ (@yowapeda_anime) September 14, 2016
Character references newly designed by Yukiko Ban (DRAMAtical Murder, Tsukiuta. The Animation)
TVアニメ第3期「弱虫ペダル NEW GENERATION」チーム総北のキャラデザイン解禁!公式サイトにキャラクターページをアップしました!→https://t.co/8Trq8He2Ul 2017年1月放送開始!#yp_anime pic.twitter.com/f0ARnE7VBm

— 弱虫ペダル_アニメ (@yowapeda_anime) September 20, 2016
Sakamichi Onoda
小野田坂道!新世代チーム総北のエースクライマーを目指せ!
TVアニメ第3期『弱虫ペダル NEW GENERATION』2017年1月放送スタート!https://t.co/Myap8lZSXj #yp_anime pic.twitter.com/LregU5FEgX

— 弱虫ペダル_アニメ (@yowapeda_anime) September 23, 2016
Hajime Aoyagi
TVアニメ第3期『弱虫ペダル NEW GENERATION』キャラ紹介。総北高校2年、手嶋との"チーム2人"活躍に期待の青八木一!https://t.co/3tRIP5bwMU #yp_anime pic.twitter.com/1itbJtAF5G

— 弱虫ペダル_アニメ (@yowapeda_anime) September 24, 2016
Shunsuke Imaizumi
TVアニメ第3期『弱虫ペダル NEW GENERATION』キャラ紹介。総北高校1年、新世代チームのエースを目指す今泉俊輔!https://t.co/qxDO16iDYS #yp_anime pic.twitter.com/WK7nRLpOIo

— 弱虫ペダル_アニメ (@yowapeda_anime) September 25, 2016
Shoukichi Naruko
TVアニメ第3期『弱虫ペダル NEW GENERATION』キャラ紹介。
総北高校1年、新世代チームのエーススプリンターとしての活躍を誓う鳴子章吉!https://t.co/hNGPeYKLm7 #yp_anime pic.twitter.com/i49J04DYLH

— 弱虫ペダル_アニメ (@yowapeda_anime) September 26, 2016
Junta Teshima
TVアニメ第3期『弱虫ペダル NEW GENERATION』キャラ紹介。
総北高校2年、新世代チームの主将を担う手嶋純太!https://t.co/TwDvK28iPC #yp_anime pic.twitter.com/3hlm3pOyfY

— 弱虫ペダル_アニメ (@yowapeda_anime) September 27, 2016
Source: "Yowamushi Pedal" anime official Twitter
© Wataru Watanabe/ "Yowamushi Pedal" 03 Production Committee