4th part "Soushitsu (Loss)" will open February 25, 2017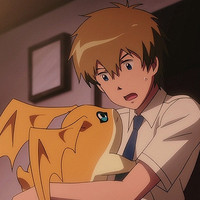 Following the first part "Saikai (Reunion)" in November 2015 and second "Ketsui (Determination)" in March 2016, "Kokuhaku (Confession)," the third part of the six-part anime film project Digimon Adventure Tri., was released at 11 theaters across Japan last Saturday, September 24, and has earned a decent 55 million yen from its first four days.
The film's first weekend gross from Saturday and Sunday was 44 million yen, which was slightly down from the second part's 46 million yen, while the first part made 59 million yen. The total box office gross of the first part was 230 million yen and that of the second was 160 million yen. Judging from the decline, the third part is expected to end its domestic run with around 120-130 million yen.
The fourth part "Soushitsu (Loss)" is set for theatrical release in Japan on February 25, 2017.
3rd part main visual
Blu-ray set to be released on November 2
---
Digimon Adventure tri. Part 3: Confession is also now available to Crunchyroll Premium Members. Free
members will be able to watch it starting October 23. It is available in the following territories: United States,
Canada, South Africa, Australia, New Zealand, Latin America, Albania, Algeria, Armenia, Azerbaijan, Bahrain,
Belarus, Bosnia and Herzegovina, Bulgaria, Croatia, Cyprus, Czech Republic, Denmark, Djibouti, Egypt, Estonia,
Finland, Georgia, Hungary, Iceland, Iran, Iraq, Israel, Jordan, Kuwait, Kazakhstan, Latvia, Lebanon, Libya,
Liechtenstein, Lithuania, Macedonia, Malta, Mauritania, Moldova, Montenegro, Morocco, Netherlands, Norway,
Northern Cyprus, Oman, Palestine, Poland, Qatar, Romania, Russia, Saudi Arabia, Serbia, Slovakia, Slovenia,
Somalia, Spain, Sudan, Sweden, Syria, Tunisia, Turkey, Ukraine, United Arab Emirates, Western Sahara, Yemen.
Source: Animate. TV, Anime Hack
© Akiyoshi Hongo/Toei Animation