The Shinkai Makoto film has become the 7th top-grossing Japanese film in history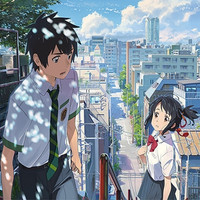 In addition to the original official Twitter account, the production committee of Makoto Shinkai's mega hit anime film Kimi no Na wa./your name has opened another official account dedicated to the copyright protection.
As reported frequently, the youth sci-fi film has kept breaking the box office record of Japanese anime films. It has earned a huge 11.1 billion yen (about 110 million US dollars) in its domestic market, now becoming the 7th top-grossing Japanese film in history. But on the other hand, several illegally uploaded files and videos of the film have been already found in the net. The sources of them are now under investigation, the film's distributor Toho says. This is the first time for them to have this kind of Twitter account.
The account was launched on September 26 under the name "Movie Kimi no Na wa Production Committee
Copyright Manager" and has posted their messages to ask people not to watch the film by illegitimate
means, and has been sending individual requests to Twitter users to immediately delete their tweets
including links to illegal sites and contents, and also asking not to spread them via SNS.
---
"Hello. This is the copyright manager of the production committee of the film 'Kimi no Na wa.' Thanks to
your support, the film has become a huge hit and is still running strongly at the theaters all over Japan.
Thank you so much. But unfortunately, several illegal streamed videos of the film have been already
existed. Please do not watch those videos."
はじめまして、映画『君の名は。』製作委員会の著作権担当です。
おかげ様で映画『君の名は。』は全国の映画館で超メガヒット上映中です。本当にありがとうございます。さて、残念ながら、違法に流されている本作品の動画が存在しています。これらの動画を視聴されませんようお願いいたします。

— 映画『君の名は。』製作委員会著作権担当 (@kiminona_rights) 2016年9月26日
"Kimi no na wa." poster visual
Source: Asahi Shimbun