Starts 10/5 at 11:05am PT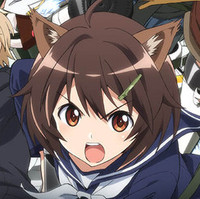 Previously announced as part of Crunchyroll's epic Fall Rollout special, we finally have more info on simulcast plans for Brave Witches, the latest in the Strike Witches franchise...
Brave Witches begins streaming on Crunchyroll on 10/5 at 11:05am PT and will be available worldwide except Asia.
About Brave Witches
In 1930, the enemy of humanity, "Neuroi," suddenly appeared in Europe. Normal weaponry was ineffective on the Neuroi, and the only ones capable of fighting them were young girls with magical powers, known as "Witches."


"Brave Witches" takes place in between seasons 1 and 2 of "Strike Witches."


In September of 1944, thanks to the actions of the Allied Forces, with the 501st Joint Fighter Wing "Strike Witches" at their center, the Neuroi nest in the skies above the Republic of Gallia was eliminated, ensuring the security of western Europe. The Allied Forces took advantage of this victory to plan to take their resistance to central and eastern Europe in earnest. At their base in Petersburg in the Empire of Orussia, the 502nd Joint Fighter Wing "Brave Witches" prepared to receive orders to deploy... With the hope of mankind at their backs, the courageous Witches of the 502nd take to the cold skies over eastern Europe.
Main Voice Cast:
Hikari Karibuchi: Ai Kakuma (Isuzu Sento in Amagi Brilliant Park)
Takami Karibuchi: Rie Suegara (Yui Komori in Diabolik Lovers)
Naoe Kanno: Rie Murakawa (Hotaru Ichijo in Non Non Biyori)
Nikka Edvardine Katajainen: Natsumi Takamori (Miku Maekawa in The [email protected] Cinderella Girls)
Waltrud Krupinski: Kayo Ishida (Yui Watanabe in Vividred Operation)
Alexsandra Ivanovna Pokryshkin: Yumi Hara (Takane Shijo in The [email protected])
Georgette Lemare: Haruka Terui (Kobeni Yonomori in Engaged to the Unidentified)
Sadako Shimohara: Marin Mizutani (female student in Sky Wizards Academy)
Edytha Rossmann: Hiromi Igarashi (Anzu Futaba in The [email protected] Cinderella Girls)
Gundula Rall: Rina Sato (Mikoto Misaka in A Certain Magical Index)
Main staff:
Original Story: Humikane Shimada & Project World Witches
Planning: Takeshi Kikuchi, Hironori Kudo
Director/Character Designer: Kazuhiro Takamura
Original Character Designer: Humikane Shimada
Series Composition: Striker Unit
Anime Production: Silver Link.
Production: The 502nd Joint Fighter Wing Squadron 2016
Patrick Macias is editor in chief of Crunchyroll News & Otaku USA magazine.
He is also the writer of HYPERSONIC music club, Paranoia Girls, & PARK Harajuku: Crisis Team!