Qui n'a pas peur du monstre bleu ?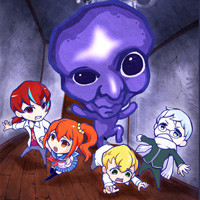 Crunchyroll annonce la diffusion en simulcast en VOSTFR de la série Aooni – The Animation (Aooni The Blue Monster). Elle débutera dès le 2 octobre pour les membres Premium, puis sera accessible gratuitement une semaine plus tard. Un nouvel épisode sera ajouté chaque dimanche à partir de 21 h 15.
RÉSUMÉ
Aux abords de la ville se dresse un manoir que l'on dit hanté par un mystérieux monstre bleu (Aooni, en japonais). Hiroshi et ses camarades Takuro, Takeshi et Mika ont décidé de s'y rendre pour en avoir le cœur net. En effet, personne n'a jamais pu témoigner de la présence du monstre, car ceux qui sont entrés dans le manoir n'en sont jamais ressortis…
À PROPOS DE AOONI – THE ANIMATION
– L'histoire est basée sur une franchise de jeu d'horreur gratuit en ligne où il faut résoudre des énigmes pour échapper à un monstre.
– Les vidéos des joueurs ont totalisé plus de 50 millions de vues sur YouTube et Nico Nico.
– Un film d'animation sortira en 2017 au cinéma au Japon. Deux films live ont déjà vu le jour en 2014 et 2015.
– La série se présente comme une comédie, parodiant le concept avec des personnages en SD (Super Deformed).
– Il s'agit d'un format court.
FICHE TECHNIQUE
Titre original : Aooni – The Animation (あおおに 〜じ・あにめえしょん〜)
Année : 2016
Format : épisodes de 3 minutes
Auteur : noprops
Réalisateur : Toshirô Hamamura
Studio de production : Studio Deen
TERRITOIRES
Aooni – The Animation sera disponible sur Crunchyroll dans le monde entier, excepté en Asie.
©2016 noprops/ANIME"AOONI"PROJECT, All Rights Reserved.