Both titles premiere on Crunchyroll on 10/8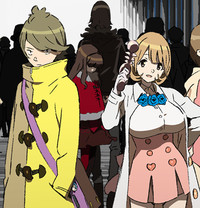 Standby for a big bold day of new fall anime announcements at Crunchyroll! Things begin with a double whammy with word that two series from Aniplex of America: Occultic;Nine and March comes in like a lion, are set to begin streaming soon.
Both titles will premiere on Crunchyroll on October 8, 2016 - Occultic;Nine at 9:30AM PDT and March comes in like a lion at 10:00AM PDT– within hours of the original broadcasts in Japan. Both series will be available to members in North America, Central America, South America, Australia, New Zealand, United Kingdom and Ireland.
About Occultic;Nine
The multitude of small, miniscule "discomfort" later develops into a case so large it is beyond imagination...
Yuta Gamon is a 2nd year in high school. He runs "Kiri Kiri Basara," an affiliate blog that rounds up occult forum posts, for a shot at quick money, and challenges himself to the occult night and day to "hack and slash away!" the many supernatural phenomena existing in the world from a scientific standpoint.
However, with that blog of his as a catalyst, a group of downright maniacal and insane comrades have gathered about.
Based on the light novel series written by Chiyomaru Shikura (creator of Steins;Gate), Occultic;Nine is animated by renowned studio A-1 Pictures and directed by Kyohei Ishiguro (Your lie in April) and Miyuki Kuroki in her series directorial debut. The series will star Yuki Kaji (MAGI, KIZNAIVER, Your lie in April, DURARARA!!) as Yuta Gamon and Ayane Sakura (NISEKOI, Charlotte, Your lie in April) as Ryoka Narusawa.
For details on Occultic;Nine, please visit: www.occulticnine.com
About March comes in like a lion
This is a gentle tale about people trying to regain something.
And it is a tale of battle.
The main character, Rei Kiriyama, lost his family in an accident when he was young. Now he is a 17-year-old pro shogi player who is burdened with deep loneliness. Rei lives alone in an old town in Tokyo, but after becoming acquainted with three sisters, Akari, Hinata and Momo, he begins to change little by little…
March comes in like a lion is based on the popular ongoing manga series by Chica Umino, who is best known as the creator of Honey and Clover. Director Akiyuki Shimbou (BAKEMONOGATARI, Puella Magi Madoka Magica, KIZUMONOGATARI) leads the creative team at studio SHAFT, which includes character designer Nobuhiro Sugiyama (NISEKOI, BAKEMONOGATARI, HANAMONOGATARI) and composer Yukari Hashimoto (Toradora!, Mr. Osomatsu).
For details on March comes in like a lion, please visit: www.3lion-usa.com
Patrick Macias is editor in chief of Crunchyroll News & Otaku USA magazine.
He is also the writer of HYPERSONIC music club, Paranoia Girls, & PARK Harajuku: Crisis Team!