Dans le monde du patinage artistique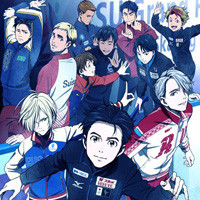 Crunchyroll annonce l'acquisition de la série sur le patinage artistique Yuri!!! On ICE. Vous pourrez la suivre prochainement en simulcast en VOSTFR sur Crunchyroll. Plus de détails à venir prochainement sur la diffusion.
RÉSUMÉ
Yûri Katsuki portait sur ses épaules tous les espoirs du Japon pour remporter le Grand Prix de patinage artistique, mais il y a subi une écrasante défaite. Il retourne dans sa ville natale et songe alors à prendre sa retraite, malgré une persistante envie de patiner. Un jour, le quintuple champion du monde Viktor Nikiforov, accompagné d'un jeune russe, Youri Plisetsky, vient le trouver pour qu'il reprenne la compétition…
À PROPOS DE YURI!!! ON ICE
– L'histoire est une création originale de la réalisatrice Sayo Yamamoto (Michiko to Hatchin, Lupin the Third – Une femme nommée Fujiko Mine).
– Les personnages ont été créés par la mangaka Mitsurô Kubo (auteur de Shinjuku Fever, publié chez Akata).
– C'est la dernière production du studio MAPPA (Punch Line, Terror in Resonance, Kids on the Slope).
FICHE TECHNIQUE
Titre original : Yuri!!! on ICE (ユーリ!!! on ICE)
Année : 2016
Format : épisodes de 23 minutes
Auteurs : Mitsurô Kubo, Sayo Yamamoto
Réalisateur : Sayo Yamamoto
Studio de production : MAPPA
©Hasetsu Townspeople/Yuri!!! on ICE PROJECT