Animator and episode director Tetsuo Hirakawa steps up to helm the White Fox production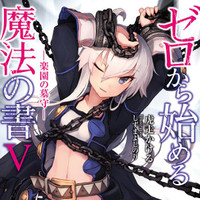 Given the figures and inclusion in promotions like the Water Gun wet t-shirt contest, the chances of Zero Kara Hajimeru Mahou no Sho joining the library of Dengeki light novel series with an anime adaptation looked more like a question of "when" rather than "if." At this weekend's Dengeki Fall Festival, the answer to both turned out to be spring 2017 for the TV anime.
The author Kakeru Kobashiri's debut novel won the Grand Prix in the 20th Dengeki Novel Taisho in 2013 when she was 26 years old. So far seven volumes are available in Japan and its manga adaptation illustrated by Takashi Iwasaki has three volumes.
Animator and episode director Tetsuo Hirakawa steps up to helm the White Fox (Re:ZERO) production with Ryosuke Kimiya and Daisuke Mataga. Cast includes Yumiri Hanamori (Anne-Happy) as the titular heroine, with Tsuyoshi Koyama as her mercinary companion and Yo Taichi (Prison School's Anzu) as Albus.
Baka Updates describes the series
It was the year 526.
The world knew that witches existed, and that they practiced the notorious art of sorcery.
Nevertheless, the world did not know anything about the study of magic.

Our story follows a half-man, half-beast mercenary; humans mockingly call his kind the "fallen beasts".
He always dreamt of becoming a human, but one day, he met a witch who would change his life forever.

"Do you desire a human form? Then be my escort, mercenary!"

The witch introduced herself as "Zero", and explained that she was searching for a one-of-a-kind magical tome that bandits had stolen from her lair. Entitled "The Book of Zero", the grimoire supposedly contained valuable magical knowledge that could be used to effortlessly bring the world to its knees.

Thus, in order to realize his dream of becoming a human, the mercenary must accompany Zero on her journey—despite her being one of the witches he so loathed.

This is the story of a haughty sorceress and a kindhearted beast.
------
Scott Green is editor and reporter for anime and manga at geek entertainment site Ain't It Cool News. Follow him on Twitter at @aicnanime.