La serie dará comienzo el 5 de octubre.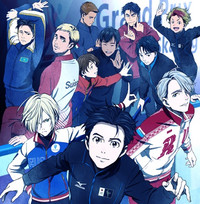 Un nuevo anime se anuncia hoy para Crunchyroll, y nada más y nada menos que Yuri!!! on ICE, anime original del estudio MAPPA para la temporada.
Yuri!!! on ICE se estrenará el miércoles 5 de octubre a las 12:00, hora del Pacífico, para los usuarios Premium. Los usuarios gratuitos podrán disfrutar de los episodios una semana después de su transmisión inicial en Crunchyroll.
El autor Mitsurou Kubo (Moteki, 3.3.7 Byooshi) y la directora Sayo Yamamoto (Lupin III: Mine Fujiko to Iu Onna, Michiko to Hatchin) son responsables del trabajo original para la serie. Yamamoto dirigirá y supervisará los guiones, mientras que Kubo diseña los personajes y dibuja los storyboards. Tadashi Hiramatsu (Parasyte) adapta los diseños de personajes al anime, siendo Kenji Miyamoto responsable de las coreografías de patinaje artístico. Taro Umebayashi(milk de PIANO) y Taku Matsushiba (PIANO) compondrán la música, siendo Keisuke Tominaga (Sakamichi no Apollon) el productor musical.
Yuri Katsuki cargaba con las esperanzas de todo Japón en el Gran Premio de Patinaje Artístico, pero sufrió una derrota aplastante en las finales. Destrozado, Yuri regresó a su pueblo natal en Kyushu y se escondió en el hogar familiar, en parte queriendo seguir mejorando en el patinaje artístico, y en parte queriendo retirarse. Fue entonces cuando el cinco veces campeón del mundo, Viktor Nikiforov, apareció acompañado de su compañero de equipo Yuri Plisetsky, un joven patinador que ya apunta maneras para superar a sus superiores. Así, ambos Yuris y el campeón Viktor acordarán competir en un Gran Premio como ningún otro se haya visto jamás.
Yuri!!! on ICE estará disponible para los usuarios de Crunchyroll en TODO EL MUNDO a excepción de Japón y China.