Official Twitter account counters assertions of salacious intent with cheeky response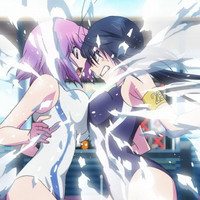 Keijo!!!!!!!!, an upcoming TV anime adaptation based on an aquatic women's sports manga by Daichi Sorayomi that's so intense that it requires 8 exclamation points, has recently released an official statement on social media addressing concerns that its chief purpose is primarily an erotic one.
When reading the following Tweets, imagine them being delivered by a scholarly individual who pauses occasionally to adjust their glasses:
TVアニメ「競女!!!!!!!!」に関して「紳士枠」「エロメインでしょ」などの理由で、最初から視聴選択肢に入っていない方がいらっしゃるようです。
個人的な意見ですが、競女のすごい所は「設定はエロそうなのにエロくない、むしろスポ根熱」という点 #競女 #keijo めがね

— TVアニメ『競女!!!!!!!!』公式 (@keijo_anime) October 2, 2016
Translation:
"Regarding the TV anime Keijo!!!!!!!!, some people have asserted that its primary purpose is to be 'like wearing x-ray glasses' or that 'it's basically porn, right?', and it's easy to see how this could be could someone's impression at first glance. This is just a personal opinion, but I think in the case of Keijo!!!!!!!! - whether the setting is erotic or not - the real issue is rooted in a passionate pursuit of sports." #keijo :glasses:
From here, the speaker gets a bit more insistent:
エロいアニメだと思って選択肢から外しているそこのアナタ!
競女は水着のスポ根です!思ってるようなアニメじゃないですから!ちょっと尻とか胸が凄いだけです。見ないと損!
この秋は、陸上、氷上そして水上の熱いスポーツ競技系アニメでいきましょう!

#競女 #keijo めがね pic.twitter.com/zqAhZRFxGU

— TVアニメ『競女!!!!!!!!』公式 (@keijo_anime) October 2, 2016
Translation:
"Hey folks, there's plenty of erotic anime out there if you know where to look! Keijo!!!!!!!! is at its heart about women's swimsuit sports! It's really not the kind of anime that you think it is! So what if its got some really powerful butts and breasts and such. If you don't watch it, it's your loss! This fall, let's all experience the hottest sports competition anime on land, sea, or ice!" #keijo :glasses:
The original Keijo!!!!!!!! manga (also known as Hip Whip Girl) is serialized in Shogakukan's Weekly Shōnen Sunday manga magazine. The Keijo!!!!!!!! TV anime is directed by Hideya Takahashi and features animation by Xebec. The series will kick off its Japanese broadcast on Tokyo MX, AT-X, and BS11 beginning on October 06, 2016.
Sources:
Official Keijo!!!!!!!! Twitter feed (@keijo_anime)
Paul Chapman is the host of The Greatest Movie EVER! Podcast and GME! Anime Fun Time.