"Shin Godzilla" still ranks 7th in its 10th weekend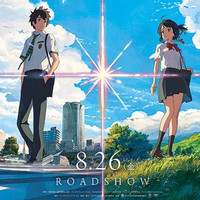 Dropped only 8.1% in its sixth weekend, Makoto Shinkai's Kimi no Na wa./your name. again dominates the Japanese weekend box office with 790 million yen from 650,000 admissions, bringing its total domestic gross to 12.8 billion yen. It now becomes the sixth top-grossing Japanese film and fifth Japanese animation film in history, surpassing 12.02 billion yen earned by Hayao Miyazaki's last feature film in 2013, Kazetachinu/The Wind Rises. It is expected to reach the box office record of Miyazaki's Ponyo (2008/15.5 billion) in a few weeks.
And it is also confirmed today that the film has sold 10,025,897 tickets by October 3 in 39 days since its release on August 26. Its current total domestic gross is an astonishing 13,020,003,500 yen.
The youth sci-fi film is scheduled to be screened in 89 regions/countries in the world. Funimation already announced in July that they acquired the film for theatrical and home video release in the U.S.
Weekend box office in Japan (October 1-2)
1 (1). "Kimi no na Wa./your name."
2 (2). "Sully"
3 (3). "Koe no Katachi"
4 (new). "SCOOP!"
5 (5). "Ikari"
6 (4). "Yamikin Ushijima-kun Part 3"
7 (9). "Shin Godzilla"
8 (6). "Shigatsu wa Kimi no Uso/Your Lie in April"
9 (7). "Sanada Juyushi"
10 (new). " The Angry Birds Movie"
All-Time Japanese Film Box Office Top 10:
1. "Spirited Away" (2001/30.1 billion yen)
2. "Howl's Moving Castle" (2004/19.6 billion)
3. "Princess Mononoke" (1997/19.3 billion)
4. "Bayside Shakedown 2" (2003/17.35 billion)
5. "Ponyo" (2008/15.5 billion)
6. "your name." (2016/13.02 billion)
7. "The Wind Rises" (2013/12.02 billion)
8. "Antarctica" (1983/11 billion)
9. "Bayside Shakedown 2" (1998/10.1 billion)
10. "The Adventures of Chatran" (1986/9.8 billion)
Japanese trailer
Flyer visuals
Source: Eiga.com, Cinema Today