Details will be revealed at MIPCOM 2016 in Cannes, France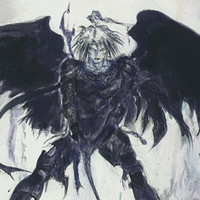 Nagoya Broadcasting Network has agreed with Tokyo-based company Lotus to co-produce an original project titled Ninja Vampire for the foreign market. Three key visuals drawn by internationally acclaimed illustrator Yoshitaka Amano (Vampire Hunter D, Final Fantasy series) are now available. It will be brought to market at MIPCOM 2016 in Cannes, France, which begins on October 17, 2016. The type of medium (anime, game, etc.) is not mentioned yet.
Lotus has collaborated with anime production company Gainax (Neon Genesis Evangelion, Tengen Toppa Gurren Lagann) for the Ninja Soccer project, which includes an English edition manga series published by Yen Press.
The story of Ninja Vampire is inspired by a historical fact of vassals of Masamune Date (powerful daimyo in Japan's Azuchi-Momoyama period through early Edo period) who travelled through Spain to
Italy 400 years ago. Ninja Vampire are originated in Europe and not afraid of the cross, holy water, and
garlic. Using cutting edge technology, including AI, they declare war against the human race and old Vampire
clan in the present day.
"Vampire Ninja" key visuals
Source: press release