Hisayoshi Hirawasa (OZMAFIA!!)-directed anime will premiere tonight in Japan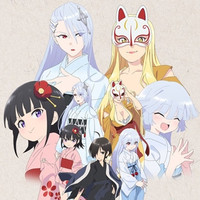 It is officially confirmed today that "Misty," one of the six ED songs for the the upcoming TV anime adaptation of Riichi Kageyama's web manga series Kiitarou Shonen no Youkai Enikki (Young Kiitarou's Youkai Picture Diary), is performed by 16-year-old rookie singer Haruka Tojo. Her official blog, Twitter, and teaser site also launched today, but her detailed profile, including her visual, is still kept secret. Her official website is scheduled to be fully opened on November 19. "Misty" will be released from AQUA ARIS as her major debut single on November 30.
The Creators in Pack (Danchigai, Hacka Doll)-animated series is set to premiere on Tokyo MX at 22:33 and on Sun TV at 24:03 on October 5 (JST). "Misty" will be revealed in the premiere episode tonight.
皆さんはじめまして!
この度、TVアニメ『奇異太郎少年の妖怪絵日記』EDテーマ「Misty」でデビュー致します東城陽奏(とうじょうはるか)です^^
11月にデビューシングル「Misty」のリリースも決定しました!
ここから始まる東城陽奏をよろしくお願いします。

— 東城陽奏 (@Tojoharuka) 2016年10月5日
Other five ED songs:
1. "Akaneiro Clochette" by Akira Ouse
2. "Every time -Kirai no Hantai" by Le Lien
3. "Nande?" by Death Rabbits
4. "Ruler" by Yuki Shion
5. "Reflection" by Confetti Smile (member MISAKI)
Teaser
Announced voice cast:
Kiitaro: Hiromi Igarashi (Anzu Futaba in The [email protected] Cinderella Girls)
Suzu (Zashikiwarashi/House Spirit): Arisa Nakada
Komen no Onna/Woman with a Fox Mask (Youko): Eri Kitamura (Miki Aono/Cure Berry in Fresh PreCure!)
Yuki Musume/Snow Girl (Yukinko) : Maria Naganawa (Ai Matsushima in Fushigina Somera-chan)
Yuki Haha/Snow Mother (Yuki Onna): Sayaka Ohara (Michiru Kaioh/Sailor Neptune in Sailor Moon Crystal)
Main visual
via: Music Natalie
© Riichi Kageyama/Micro Magazinesha, Kiitarou Shonen no Youkai Enikki production Committee