Live-action/animation hybrid films hits Japanese theaters December 17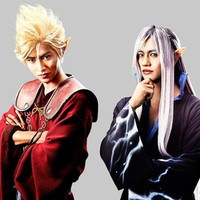 The official website for Eiga Yo-Kai Watch Soratobu Kujira to Double Sekai no Daibouken da Nyan! (Yo-Kai Watch The Movie: The Great Adventure of the Flying Whale and the Double World), the third feature film from the Yo-Kai Watch anime franchise, today revealed visuals of 22-year-old Kento Yamazaki and 35-year-old Takumi Saito, who play Enma Daioh (the strongest yokai who rules the yoma world) and Nurarihyon (Enma's close adviser) in the live-action part of the film. The two characters previously appeared in the second film released in 2015 in their anime form.
山﨑賢人さん&斎藤工さん、衝撃の"妖怪"ビジュアル大公開!!
映画公式サイトをチェック→https://t.co/PdJAJrbG6f
スマートフォンの方はこちら→https://t.co/AHstZE76F6 pic.twitter.com/BQMyR7DxXt

— 映画『妖怪ウォッチ』 (@eiga_yokai) October 5, 2016
The film will be told in two worlds: the usual 2D animated world and a live-action world featuring real actors.
10-year-old child actor Ryouka Minamide, who previously played the childhood Jinta Yadomi in the live-action
drama adaptation of Anohana: The Flower We Saw That Day aired in September 2105, cast as the protagonist
Keita Amano in the live-action part, while Jibanyan is drawn in 3DCG. The third film is set for a release in
Japan on December 17, 2016.
PV
Flyer visual
Source: "Eiga Yo-Kai Watch Soratobu Kujira to Double Sekai no Daibouken da Nyan!" official website
© LEVEL-5/Movie "Yo-Kai Watch" Project 2016