Starts Fri/7 at 10pm PT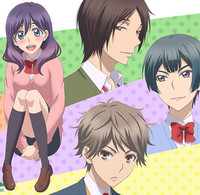 Wild fantasies and even wilder fujoshi collide on a new anime that begins streaming on Crunchyroll later this week as part of the fall season: Kiss Him, Not Me! (AKA Watashi ga Motete Dōsunda) based on the manga by Junko (currently available on Crunchyroll Manga).
Kiss Him, Not Me! is set to premier on Crunchyroll every Friday starting 10/7 at 10PM Pacific Time and will be available to Crunchyroll members in the following territories: United States of America, Canada, Australia, New Zealand, and Latin America.
About Kiss Him, Not Me
Kae Serinuma is what you'd call a "fujoshi." When she sees boys getting along with each other, she loves to indulge in wild fantasies! One day her favorite anime character dies and the shock causes her to lose a ton of weight. Then four hot guys at school ask her out, but that isn't exciting to her at all — she'd rather see them date each other!
Peach Girl's Hiroshi Ishiodori directs the Brain's Base production. Michiko Yokote (Sekko Boys, Shirobako, Squid Girl) writes series composition with Kazuhiko Tamura (RINNE) on character design and Mina Ozawa (Actually, I Am…) as chief animation director.
Kae Serinuma - Yuu Koboyashi

Hayato Shinomiya - Yoshitsugu Matsuoka

Yusuke Igarashi - Yuki Ono

Asuma Mutsumi - Nobunaga Shimazaki

Nozomu Nanashima - Keisuke Koumoto


Shima Nishina - Miyuki Sawashiro
Patrick Macias is editor in chief of Crunchyroll News & Otaku USA magazine.
He is also the writer of HYPERSONIC music club, Paranoia Girls, & PARK Harajuku: Crisis Team!