Seven-member unit's 4th single hits stores November 9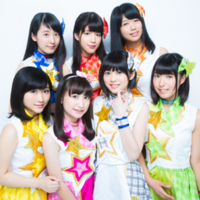 The official YouTube channel of Comic Earthstar has posted two music videos for "Kimiiro ni Somaru ~Earth Star Dream ver.~," the OP song for the ongoing second season of the TV anime adaptation of Sui Futami's comedy manga series Mahou Shoujo Nante Mouiidesukara. (I've Had Enough of a Magical Girl.), performed by seven-member voice actress unit Earth Star Dream. The unit's second single song "Yumeiro Toridori Parade♫" was also used as the OP theme for the anime's first season that was aired for 12 episodes from January to March of this year.
The unit was formed by the winners of the 1st National Seiyu Grand Prix held in 2014, then made their major debut with the 1st single "Tottemo Safari" (Teekyu 6th season theme song) in November 2015. Their fourth single "Kimiiro ni Somaru ~Earth Star Dream ver.~" is set for a release in Japan on November 9.
The second season of Mahou Shoujo Nante Mouiidesukara. premiered in Japan yesterday, and its
premiere episode is now available to Crunchyroll members worldwide except for Asia.
"Kimiiro ni Somaru ~Earth Star Dream ver.~" official MV
"Kimiiro ni Somaru ~Earth Star Dream ver.~" dance MV
「魔法少女なんてもういいですから。セカンドシーズン」主題歌は「君色に染まる ~アース・スター ドリームver.~」に決定!
「好きだよって伝えたい…」そんな切ない乙女心を歌に乗せてお届けします♡
2016年11月9日(水)発売です!https://t.co/18lWJanMdG pic.twitter.com/KQyYqsiMAF

— 2期決定魔法少女なんてもういいですから。 (@mouii_desukara) September 20, 2016
なんと
TVアニメ「魔法少女なんてもういいですから。」主題歌、君色に染まるのアース・スタードリームverミュージックビデオ公開❗️
→https://t.co/lj3aYRg0Yk
弾き語りに挑戦したよ#まほいい #ESD夢 pic.twitter.com/MBHq7NUDsS

— 高尾奏音(ESD)@10/15単独 (@Kanon_Takao) October 5, 2016
作詞作曲はTOKOTOKO(西沢さんP)さん
振り付けは足太ぺんたさん
です!!
足太ぺんたさんには、MV撮影の時に来て頂いてダンスショットの部分ずっと見てもらいました!
是非!皆さん一緒に踊って下さるとうれしいです!!#まほいい #ESD夢 #君色に染まる pic.twitter.com/0vbdXlZloE

— 中島由貴❄(ESD)@10/15単独 (@Yuki_Nakashim) October 5, 2016
1st season OP song "Yumeiro Toridori Parade♫" MV
Source: Earth Star Dream official website
(C) EARTH STAR Entertainment