Acclaimed OVA coming in January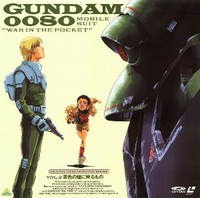 Anime retailer Right Stuf's production division, Nozomi Entertainment, has announced a January 3rd release date for a DVD collection of Mobile Suit Gundam 0080: War in the Pocket, a 6-episode OVA series from 1989 directed by Fumihiko Takayama, with character designs by Haruhiko Mikimoto (Macross, Kabaneri). The story involves a young boy who gets sucked into a climactic series of events at the conclusion of the One Year War after he befriends a fugitive Zeon soldier.
Can't you see that you are sweet?
Mobile Suit Gundam 0080 War in the Pocket January 2017. https://t.co/GqDizbREmz pic.twitter.com/FQNr59BuOV

— Nozomi Entertainment (@NozomiEnt) October 5, 2016
Mobile Suit Gundam 0080 War In The Pocket DVD
Retail Price: $29.99
Store Price: $19.49
About Mobile Suit Gundam 0080 War In The Pocket DVD
Mobile Suit Gundam 0080 War In The Pocket contains all 6 episodes of the first OVA in the Gundam franchise!
Universal Century 0079. When the Principality of Zeon learns of a new Gundam being built, the veteran specops Cyclops Team is dispatched to the civilian colony of Libot to investigate. Their newest member, Bernard "Bernie" Wiseman, gets shot down in action and meets young Alfred "Al" Izuruha, who dreams of mobile suits and space battles. Al thinks of Bernie as a friend, and even goes to great lengths to track him down while on his mission. He doesn't realize the potential danger he's in. And Al's nextdoor neighbor Christina "Chris" Mackenzie returns home with a new "government job." She's really the test pilot of the top-secret Gundam Alex the objective of Bernie's mission! As the story unfolds, three lives will be changed forever by this one small part of the war.
Special Features: Clean Opening, Clean Endings,Japanese Trailer Collection, Music Videos, and " all That Gundam" Video.
Details
Publisher: SUNRISE INC
Media: DVD
Spoken Language: English, Japanese
Subtitle Language: English
Genre: Action, Science Fiction
Themes: Mecha
Age Rating: 14+
Run Time: 180
Release Date: 1/3/2017
Weight: 0.5
-----
Scott Green is editor and reporter for anime and manga at geek entertainment site Ain't It Cool News. Follow him on Twitter at @aicnanime.