Now in production, release plans TBA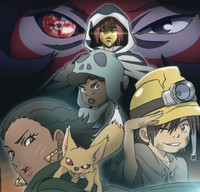 Yesterday at New York Comic Con, during their industry panel, Crunchyroll announced a new collaboration with creator LeSean Thomas (Cannon Busters): Children of Ether. The project boasts an impressive staff, including character designer Hiroshi Shimizu (Michiko & Hatchin), storyboard director Shingo Natsume (One Punch Man), animation director Yûichi Takahashi (Gatchaman Crowds Insight) and animator Mitsuo Iso (Neon Genesis Evangelion). Thomas himself is directing the project.


Animation for Children of Ether is being produced by Yapiko Animation, which will also feature an original music soundtrack composed and performed by Mr Hudson. U.S. comic artist Ronald Wimberly contributed to the early concept designs.
Children of Ether follows Rhonda, a woman with a dark past and a mysterious power, as she is pursued by an unknown assailant after the death of her father. Aided only by her wits and a pair of orphans, Rhonda journeys through a decaying, dystopian metropolis populated by raiders, gangs, and the supernatural. As she struggles to survive in this harsh urban tangle, she meets both friends and enemies, and searches for answers about this power, "The Ether", awakening within her.