Un projet multi-culturel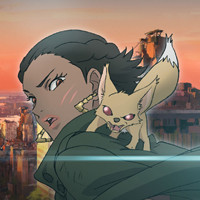 C'est à l'occasion de la convention New York Comic Con, aux États-Unis, que Crunchyroll a dévoilé hier les premières images de Children of Ether, une série produite par Crunchyroll avec la collaboration du studio franco-japonais Yapiko Animation. La série est créée et réalisée par l'américain LeSean Thomas (Cannon Busters), avec un staff composé de grands noms de l'animation japonaise, mais aussi plusieurs Français établis au Japon. Plusieurs d'entre eux étaient d'ailleurs en France, à Japan Expo en juillet dernier, à l'occasion du focus sur la French Touch ! Children of Ether sera diffusé prochainement en exclusivité sur Crunchyroll.
L'HISTOIRE
Après la mort de son père, une jeune femme, Rhonda, est poursuivie par un mystérieux agresseur. Dans une ville en perdition peuplée de pillards et de toutes sortes de gangs, elle trouve de l'aide auprès d'une bande de jeunes orphelins. Mais Rhonda possède en elle une puissance, l'Ether, dont elle ne mesure pas encore l'étendue. Elle cherche ainsi à comprendre ce pouvoir et croise, au cours de son périple, de nombreuses personnes parfois amies, parfois ennemies...
STAFF
Auteur, réalisateur : LeSean Thomas (Cannon Busters)
Character Designer : Hiroshi Shimizu (Michiko & Hatchin, Space Dandy)
Storyboard : Shingo Natsume (One Punch Man, Space Dandy)
Assistant-réalisateur : Jin Tamamura (Rakudai Kishi no Cavalry)
Directeur de l'animation : Yûichi Takahashi (Gatchaman Crowds, Macross Frontier)
Animateurs Seniors : Yûichi Takahashi, Mitsuo Iso (Dennô Coil), Atsushi Tamura (Le Royaume des Chats, Gundam Reconguista in G), Antoine Antin (Space Dandy), Jamie Vickers (Black Lagoon)
Animateurs : Cedric Herole (Lupin III – Fujiko Mine), Alexandre Ulmann (Wakfu), Eddie Mehong (Lupin III – Fujiko Mine, Space Dandy), Yann Le Gall
Animateurs Juniors : Etienne Guignard, Myriam Fourati
Animateur 3D : Jean-Louis Vandestoc
Conception des décors : Benoit Maillochon
Direction artistique : Saina Cisse (Galilei Donna, Fate/kaleid liner)
Layout : Yann Le Gall (Basquash! Bodacious Space Pirates, AKB0048)
Chef coloriste : Azusa Sasaki (Sword Art Online, Mushishi)
Studio d'animation : Yapiko Animation
Producteurs : Jean-Louis Vandestoc, Eddie Mehong
Directeurs de production : Severine Varlette, Tomoko Kumada, Airi Takekawa
Studio (intervalles et mise en couleur) : Studio Graphinika
Studio (compositing) : Ph Studio
Traducteurs : Tomoko Kumada, Yayoi Dreisker
Design du concept original : Ronald Wimberly
Musiques originales composées et interprétées par : Mr Hudson
Teleplay : Nicholas Thurkettle
Développement additionnel : Brandon Easton