Projeto foi revelado durante importante evento nos EUA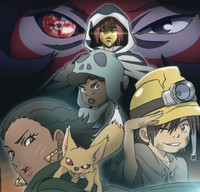 Durante o painel da indústria da New York Comic Con, realizado na última quinta-feira, a Crunchyroll anunciou a parceria com o criador de Cannon Busters, LeSean Thomas, para a produção de seu primeiro anime original: Children of Ether. O projeto possui uma equipe impressionante, que inclui o designer de personagens Hiroshi Shimizu (Michiko e Hatchin), o diretor de One Punch Man, Shingo Natsume, o diretor de animação Yuichi Takahashi (Gatchaman Crowds Insight) e o animador Mitsuo Iso (Neon Genesis Evangelion). LeSean Thomas é responsável pela direção.
Thomas é um experiente animador, produtor e diretor com longa carreira na TV americana, ele já trabalhou na produção de projetos importantes como Black Dynamite, The Boondocks e Avatar: A Lenda de Korra.
O estúdio franco-japonês Yapiko Animation é responsável pela produção do anime, que também contará com trilha sonora original composta e executada por Mr. Hudson. O quadrinista americano Ronald Wimberly contribuiu para os conceitos iniciais do projeto.
A história de Children of Ether acompanha Rhonda, uma mulher com passado sombrio e um poder misterioso. Ela é perseguida por um assaltante desconhecido após a morte de seu pai. Contando apenas com sua inteligência e um casal de órfãos, Rhonda viaja por uma metrópole decadente, distópica, povoada por criminosos, gangues e o sobrenatural. Enquanto se esforça para sobreviver neste duro emaranhado urbano, ela conhece amigos e inimigos, e busca por respostas sobre este poder, "O Éter", despertando dentro dela.
Fonte: CRNews
---
Fábio[portuga] é redator de notícias para a Crunchyroll.pt e gostou dessa notícia, ele acha que essa equipe pode conseguir fazer um ótimo trabalho e também se inderessou pela premissa do anime. Visite o seu perfil e siga-o no Twitter: @portugassis. Clique aqui para ler outros posts do autor.