11-song album includes an image song for "NAZOTOKINE"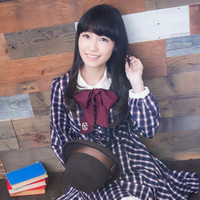 It is confirmed today that 27-year-old popular anime voice actress Eriko Matsui, will release her major debut album "Nijiyoubi." (Rainbow Day) from Tokuma Japan Communications on January 25, 2017.
After graduated from Yoyogi Animation Academy's voice actor course, she made her professional voice actress debut in 2012. She is best known as Isuzu in Log Horizon (2013-2014), Benio Yonomori in Engaged to the Unidentified (2014) and Misaki Sakurada in Castle Town Dandelion (2105). In this fall 2016 season, she is voicing Kyoka Mizukami in NAZOTOKINE, and the 11-song album includes an image song for the anime, "Dessin."
NAZOTOKINE, premiered on October 5, is now available in the following territories: U.S.A., Canada, United Kingdom, Ireland, Australia, New Zealand, South Africa, Sweden, Denmark, Norway, Finland, Iceland, Netherlands, Central and South America including Caribbean.
via: Music Natalie