Jetzt in Produktion, weitere Details folgend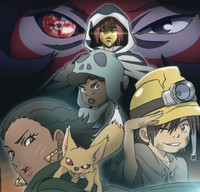 Auf der New York Comic Con kündigten unsere US-Kollegen vorgestern eine neue Kollaboration mit LeSean Thomas (Cannon Busters, Boondocks, The Legend of Korra) an: Children of Ether. Mit dabei sind eine Vielzahl bekannter Gesichter: Character Designer Hiroshi Shimizu (Michiko & Hatchin), Storyboard Director Shingo Natsume (One Punch Man, Space Dandy), Animation Director Yuichi Takahashi (Gatchaman Crowds Insight) und Animator Mitsuo Iso (Neon Genesis Evangelion). Thomas selbst führt Regie bei dem Projekt.
Children of Ether wird von Yapiko Animation animiert, während der Sountrack von Mr Hudson beigesteuert wird. Der amerikanische Comiczeichner Ronald Wimberly hat zu den frühen Konzeptzeichnungen beigetragen.
Children of Ether dreht sich um Rhonda, eine Frau mit düsterer Vergangenheit und mysteriösen Kräften, welche nach dem Tod ihres Vaters von einem unbekannten Attentäter verfolgt wird. Nur mithilfe ihres Verstandes und zweier Waisenkindern muss Rhonda in einer dystopischen Großstadt überleben, die von Plünderern, Gangs und Übernatürlichem bevölkert wird. Während ihres Überlebenskampfes in dieser tödlichen Umgebung trifft sie sowohl Freunde als Feinde und sucht nach dem Ursprung der Kraft, die in ihr anwächst: Dem "Ether".