From "Fire Emblem" to "Mega Man," there's something for everyone.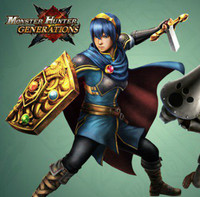 If you fancy dressing up your Monster Hunter Generations characters, you'll definitely want to snap up the latest batch of free DLC, which can transform them into the stars of Fire Emblem and more.
Included in the pack are costumes like Marth from Fire Emblem, Mega Man, and Ghosts 'n Goblins. There's also a creepy "Zombie-kun" set with a chilling little creature you can pick up as well.
You can see some of the DLC items below, but if you want the full list you can check it out on Capcom's official blog.
[via Siliconera]
-------
Fueled by horror, rainbow-sugar-pixel-rushes, and video games, Brittany is a freelancer who thrives on surrealism and ultraviolence. Follow her on Twitter @MolotovCupcake and check out her portfolio for more.