Directed by Masahiko Ota (Yuruyuri, Himouto! Umaru-chan)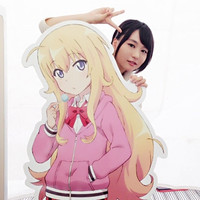 The official website for the upcoming TV anime adaptation of Ukami's Gabriel Dropout fantasy comedy manga has confirmed that it will premiere in January 2017 and its first episode's advance screening event will be held at the Shinjuku Piccadilly theater in Tokyo on December 18, 2016.
The anime's four main voice cast: Miyu Tomita (Gabriel White Tenma), Saori Onishi (Vignette April Tsukinose), Naomi Ozora (Satanichia McDowell Kurumizawa), and Kana Hanazawa (Raphiel Ainsworth Shiraha) are also scheduled to join. The QR code to pre-order the ticket for the event is printed on the stickers and postcards that are now distributed in the Machiasobi event.
Miyu Tomita and Gabriel standee at Machiasobi
ガヴリールドロップアウトステージ無事終了しました!おこし頂きました皆様ありがとうございます!2017年1月放送開始です!宜しくお願いします!!
KADOKAWAパラソルでステッカー配布中です! #マチアソビ #gabdro pic.twitter.com/0dqoVpaBF8

— TVアニメガヴリールドロップアウト公式 (@gabdroanime) October 8, 2016
Tomita and the manga author Ukami
写真!
等身大ガヴ私より小さかったぜ〜♥
そしてうかみ先生と!!#gabdro #マチアソビ pic.twitter.com/QU3mImWUVm

— 富田美憂 (@miyju_tomita) October 8, 2016
---
The manga has been serialized in Kadokawa/Ascii Media Works' monthly magazine Comic Dengeki Daioh
"g" since December 2013, and currently three tankobon volumes are available in Japan. The story centers on
Gabriel, who was sent down to Earth to learn about humans after graduating from the Angel School in the
upper world. But she soon finds various amusements on Earth and falls into a debauched, "Dropout" life.
Doga Kobo works on production of the anime adaptation. Masahiko Ota, who recently worked on Himouto!
Umaru-chan, is attached to direct, alongside series composition writer Takashi Aoshima (Yuruyuri, Umaru-chan)
and character designer Masahiro Katsutani (We Are Luck & Logic Club).
Main visual
TVアニメ「ガヴリールドロップアウト」メインスタッフ
原作:うかみ (「コミック電撃だいおうじ」連載)
監督:太田雅彦
シリーズ構成:あおしまたかし
キャラクターデザイン:熊谷勝弘
アニメーション制作:動画工房
#gabdro pic.twitter.com/F5gmPOlCYQ

— TVアニメガヴリールドロップアウト公式 (@gabdroanime) July 27, 2016
Gabriel White Tenma (CV: Miyu Tomita)
ガヴリール(CV:富田美憂)
「人類なんか勝手に滅んでくださいって感じ?」
天使学校を首席で卒業するも、人間界で多くの娯楽に魅了され、天界始まって以来の駄目天使になった。いつもぐーたらしている。 #gabdro pic.twitter.com/d36VIv0HKx

— TVアニメガヴリールドロップアウト公式 (@gabdroanime) September 23, 2016
Vignette April Tsukinose (Saori Onishi)
ヴィーネ(CV:大西沙織)
「あ…悪魔らしく他人に迷惑かけてみましたっ」
悪魔だが真面目で、困っている人がいたらほっとけないタイプ。いつもガヴリールの所に現れては世話をしていくしっかり者。
#gabdro pic.twitter.com/ijnamfBQRt

— TVアニメガヴリールドロップアウト公式 (@gabdroanime) September 24, 2016
Satanichia McDowell Kurumizawa (CV: Naomi Ozora)
サターニャ(CV:大空直美)
「この世の悪しきことは私のためにある! 恐怖するがいい、人間ども!」
大悪魔を目指して気取ってはいるものの、行動は憎めないアホ悪魔。ガヴリールを勝手にライバル視しているが、相手にされていない様子。 pic.twitter.com/ZwjEv1AaKK

— TVアニメガヴリールドロップアウト公式 (@gabdroanime) September 25, 2016
Raphiel Ainsworth Shiraha (CV: Kana Hanazawa)
ラフィエル(CV:花澤香菜)
「どのように導いて(いじって)欲しいですか?」
一見善良な天使に見えるが、実はドS。ガヴリールとは旧知の仲。サターニャをからかって退屈しのぎをしている。巨乳の持ち主。
#gabdro pic.twitter.com/rJglntk6np

— TVアニメガヴリールドロップアウト公式 (@gabdroanime) September 26, 2016
PV
Source: TV anime "Gabriel Dropout" official website, Twitter
©2016 Ukami/KADOKAWA Ascii Media Works/Gabriel Dropout production Committee