"GARO (Fanged Wolf)" will be released in 2017, with future installments in the "GARO" franchise to follow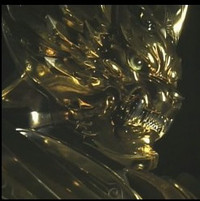 Before it was a MAPPA anime series, Golden Knight Garo was a more mature version of Power Rangers/Kamen Rider style tokusatsu, airing on late-night TV. Speaking at the Monsterama fantasy and horror convention in Atlanta, Georgia, Kraken Releasing's Matt Greenfield announced that the company is now planning on releasing the first installment in North America.
They introduce the series and plans for its release:
First launched on October 7, 2005, the original live action TV series, GARO (Fanged Wolf,) quickly set itself apart from other Japanese fantasy series with its darker themes, adult content and spectacular fight scenes, unleashing a non-stop stream of GARO television series, feature films, collectibles and videogames. Often described as the closest thing ever made to a live action anime, GARO has gone on to become a major force in the Japanese entertainment industry, and Kraken Releasing is very honored to be the first to bring the epic live action saga to North America, beginning with GARO (Fanged Wolf) in 2017.
Where there is light, shadows lurk and fear reigns
Yet by the Blade of Knights, Mankind was given Hope


For thousands of years, mankind has been under attack by an ancient race of demons, nightmarish creatures that feed off the darkness in men's souls and enter our world seeking bodies to possess. Against these Horrors, the human race has just one hope: the enchanted weapons and armor of the Makai Knights, a secret legion of warriors, priests and magic users who stand as humanity's last line of defense. Created by famed film and video game designer/director Keita Amemiya (Zeram, Onimusha 2, Kamen Rider Black) and directed by Amemiya and pantheon of Japan's top action and horror directors including Makoto Yokoyama (Power Rangers,) Kengo Kaji (Tokyo Gore Police, Marvel's Ironman-Rise Of The Technovore,) and Ryu Kaneda (Parasite Dr. Suzunne, Video Girl Ai,) GARO's amazing battle sequences, stunning special effects and complex multi-character storyline make it an epic unlike anything you have seen before.
GARO (Fanged Wolf) will be released in 2017, with future installments in the GARO franchise to follow. Section23 will be distributing it.
-----
Scott Green is editor and reporter for anime and manga at geek entertainment site Ain't It Cool News. Follow him on Twitter at @aicnanime.